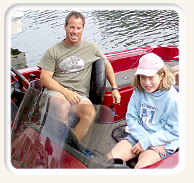 Located in the heart of Muskoka, Forest Glen Family Villa Resort is your gateway to the region's natural
splendour, rich and vibrant culture, and endless possibilities for sport and recreation.
Even while on holiday, it's important to stay connected. With our on-site services and proximity to Orillia,
Gravenhurst and Washago, you'll always have access to the things you need.
On Site
Full cellular phone service capability
Pay phone

Laundry and Dry Cleaning, returned within 24 hours
Lending library
Washago, Orillia and Gravenhurst (10, 20 and 15 minute drive from Forest Glen respectively)
Restaurants and bars
All major Canadian banks (Orillia)
Public Library
Doctors and Dentists
Pharmacies
Grocery stores; beer, wine and liquor stores

Soldiers Memorial Hospital
Places of Worship
Service Stations
Marinas
Taxi Service (from Washago)
Off-Site Activities
There are a variety of nearby activities that we can arrange for you! These include:
Fine dining at nearby restaurants
Fishing boat rentals
Canoe/Paddle Boat rentals
Motorboat and PWC rentals
Wagon/Hay rides
Camping at nearby sites
ATV and snowmobile rentals for use on nearby trails

Golf at the many nearby courses
A cruise aboard the RMS Segwun Steamship
Dinner and entertainment at Casino Rama
Theatre tickets at Casino Rama
Entertainment Complex, Orillia Opera House
and Gravenhurst Opera House
Muskoka and Surrounding Area Links
General Information
Muskoka.com - Visit this excellent resource for just about everything Muskoka.
Muskoka Magazine - Read all about the Muskoka lifestyle.
Muskoka Tourism - Organize tours of all the surrounding Muskoka communities.
Muskoka Weather - Keep up-to-date with the weather in the Muskoka region.
Port Carling Boats - Learn all about the cottage life in Muskoka and its antique and classic boats
Sports & Recreation
Casino Rama - Try your luck at Casino Rama, featuring 2300 slot machines, 120 gaming tables, 9
great restaurants, a 5000-seat Entertainment Complex, spa, meeting rooms and banquet facilities
Diamond in the Ruff Golf Club - Tee off at one of Muskoka's most picturesque golf courses, a challenge
for players of all levels with bent grass tees, greens and fairways.
Gravenhurst Water Skiing - Get all the information you'll need for water skiing facilities and rentals
in the area.
Mount St. Louis Moonstone - Visit Mount St. Louis Moonstone for great skiing, snowboarding and
snowblading.
Muskoka Wild Life Centre - Explore the hundreds of acres of Crown Land and its wildlife.
OFSC Trails (Ontario Federation of Snowmobile Clubs) - Take a trip through these groomed and
marked snowmobile trail routes.
The Portage Store - Book guided wilderness canoe trips through the world-famous Algonquin
Provincial Park, or rent canoes.
Wallyeman Outfitters - Rent boats, ice huts, rods and reels; renters do not require a boating license.
Wasaga Beach Paintball - Visit Canada's premiere indoor/outdoor paintball park.
Cruises
Lady Muskoka Cruise - Take a 2 1/2 hour cruise from Bracebridge and see the Muskoka River, historic
sunken artifacts, Beaumaris, and the famous Millionaires' Row.
Lake of Bays Boat Tours - Discover the rich history and charm of the beautiful Lake of Bays on a guided
tour aboard a deluxe pontoon boat.
The Muskoka Fleet - Book a cruise on any of the three of the major Muskoka Lakes aboard the RMS
Segwun - North America's oldest running steamship - Wononah II and Wanda III, includes lunch or dinner.
Arts & Culture
Bracebridge Chamber of Commerce - Explore the Muskoka Lakes. rivers, waterfalls and recreation and
historical parks in beautiful Bracebridge.
Gravenhurst Chamber of Commerce - Discover the charm of Gravenhurst that keeps brining people back.
Gravenhurst Opera House & Arts Centre - Come and see both professional and community performances
year-round.
Huntsville Festival of Arts - Witness an eclectic mix of music, theatre, dance and visual art in a variety
of venues by local, national and international performers and artists.
Huntsville/Lake of Bays Chamber of Commerce - Learn everything you wanted to know about Huntsville
and Lake of Bays.
Johnston's Cranberry Marsh - Visit one of Canada's oldest cranberry farms, a Muskoka tradition since
1952, and home of the award-winning Muskoka Lakes Winery.
Muskoka Heritage Place - Experience Muskoka's cultural heritage in this scenic village.
Muskoka Lakes Music Festival - Witness live performance by renowned Canadian talent in an intimate
and informal atmosphere during July and August.
Muskoka Lakes Museum - Find something for everyone in this charming museum, with everything from
1900s dolls and games to antique boats and the pioneer collection.
Port Carling Summer Events - Enjoy fine arts and crafts in the heart of Muskoka.
Muskoka Shopping
Muskoka Outfitters - Get great equipment, service and instruction for outdoor sports and travel.
The Muskoka Store and Georgian Bay Store - Find all kinds of rustic furnishings, accessories, books and
art, gourmet foods, clothing, footwear and sporting goods.